Editorial Board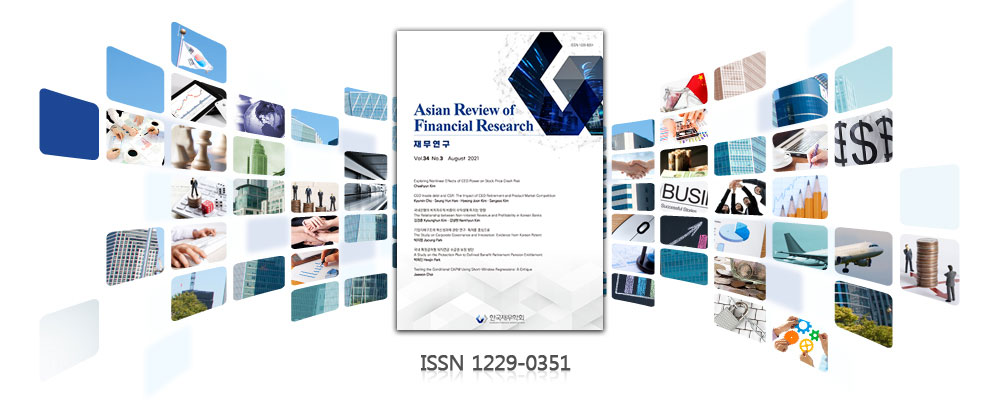 Asian Review of Financial Research, the official journal of the Korean Finance Association, publishes original reports of
academic research, both theoretical and empirical, on the Asia-Pacific capital markets. The journal covers all areas of
finance including corporate finance, investments, banking, international finance, and derivative securities. The journal is
published quarterly in February, May, August, and November.
Editorial Board
Editor
Kyojik "Roy" Song
Sungkyunkwan University
Managing Editor
ShuFeng Wang
Ajou University
Associate Editors
Byung Jin Kang
Soongsil University
Daejin Kim
UNIST
Young han Kim
Sungkyunkwan University
Hyun Dong Kim
Sogang University
Kwangil Bae
Chonnam National University
Dongchuhl Oh
KAIST
Ji Yeol Oh
Hanyang University
Dongwook Lee
Korea University
Jongsub Lee
Seoul National University
Jun Young Jung
Chung-Ang University
SeungHun Han
KAIST
Jaehoon Hahn
Yonsei University
Angie Low
Nanyang Technological University
Darwin Choi
Chinese University of Hong Kong
Henry (Hongren) Hwang
National Central University
Jimmy Yang
Oregon State University
Kenny Phua
University of Technology Sydney
Pattanaporn Chatjuthamard
Chulalongkorn University
Shu Tao
Chinese University of Hong Kong at Shenzhen
Steven Ongena
University of Zurich
Suk-Joong Kim
University of Sydney
Takeshi Yamada
Australian National University
Vidhan Goyal
Hong Kong University of Science and Technology
Yanzhi Wang
National Taiwan University